What is Contract Management Software?
Learn more about a contract management software and how it can streamline your contracting operations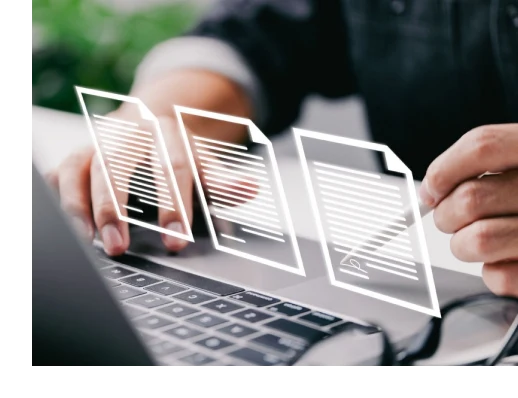 Contract management is the process of managing the creation, execution, performance, and evaluation of contracts between two or more parties. This process includes identifying the terms and conditions of the contract, ensuring that both parties understand and agree to them, monitoring compliance with the contract, and resolving any disputes that may arise.
The Problem with Traditional Contract Management
Contract management is one of the most essentials aspects of a business as it sets the foundation of the relationship between the business and all of its key stakeholders. These contracts, with customers, ensure that the terms of service or sales agreements are clear and enforced, and that any disputes or issues are handled quickly and effectively. With suppliers, contract management ensures that the terms of purchase agreements are being met, and that any issues or changes are communicated and resolved in a timely manner.
Traditional contract management can be tedious because it typically involves a manual, paper-based process that can be time-consuming and error-prone. In the traditional process, contracts are often created, negotiated, and executed using hard copy documents or email, which can be difficult to track and manage. As a business grows or as the number of contracts increases. It can be difficult to ensure that all contracts are being managed consistently, and that all stakeholders are aware of their obligations and deadlines. This process may not offer the same level of visibility into contract performance, which can make it difficult to track compliance, identify issues, or take advantage of opportunities to improve performance.
Poor contract management can lead to lost revenue, non-compliance, unnecessary exposure to risk, increase turn around time and reduce overall operational efficiency.
To tackle some of the issues of traditional contract management, companies are increasingly switching to to new-age tools like Artificial Intelligence based Contract Lifecycle Management (CLM) softwares to effectively manage their contracts, track performance, enhance visibility, automate drafting and ensure complete compliance.
What is contract lifecycle management software?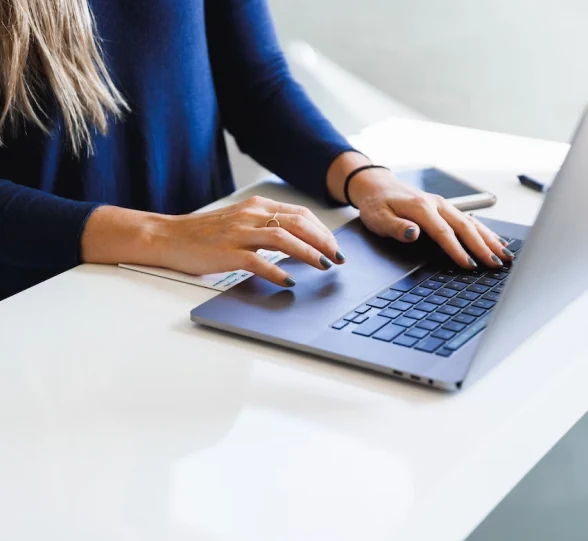 Contract lifecycle management (CLM) software is a type of software that automates and streamlines the management of contracts throughout their lifecycle, from creation to renewal or expiration. A CLM software typically provides tools for creating, negotiating, executing, and managing contracts, as well as tracking key milestones, deadlines, and obligations.
Contract lifecycle management softwares provide real-time visibility into the status of contracts, enabling businesses to track compliance, identify issues, and take advantage of opportunities to improve performance. CLM tools create a centralized repository for all buy-side as well as sell-side agreements, allowing legal teams to centrally manage all their agreements on a unified platform. A contract management tool can breakdown your contracting process into different steps and allows you to seamlessly manage each stage
Contract request
The first stage of the contract lifecycle is the contract request stage. At this stage, a request is made for a new contract or a modification to an existing contract. The CLM tool can help automate the contract request process by providing a standardized form that can be filled out by the requester. The form can be designed to capture all the necessary information required to initiate the contract process.
Contract authoring
Once a contract request has been received, the next stage is contract authoring. At this stage, the contract is drafted, reviewed, and negotiated by the parties involved. The CLM tool can provide a collaborative platform where stakeholders can access the contract document and make necessary changes. The tool can also provide redlining capabilities that highlight changes made to the document, making it easy for reviewers to track changes.
Contract approval
Once the contract has been drafted, it needs to be approved by all parties involved. The CLM tool can automate the approval process by routing the contract to the appropriate stakeholders for review and approval. The tool can also provide a centralized dashboard that allows stakeholders to track the status of the approval process.
Contract execution
The next stage of the contract lifecycle is contract execution. At this stage, the contract is signed by all parties involved. The CLM tool can provide electronic signature capabilities that allow stakeholders to sign the contract electronically. This eliminates the need for physical signatures, making the contract execution process faster and more efficient.
Contract monitoring & repository
After the contract has been executed, it needs to be monitored to ensure that all parties are complying with the terms and conditions of the contract. The CLM tool can provide automated alerts that notify stakeholders when key contract milestones are approaching or when there is a breach of contract. This helps organizations stay on top of their contract obligations and reduces the risk of non-compliance. The tool also creates a centralized repository to track all executed agreements.
Contract renewal or termination
The final stage of the contract lifecycle is contract renewal or termination. At this stage, the contract is either renewed, terminated, or renegotiated. The CLM tool can provide a dashboard that displays all the contracts that are up for renewal or termination. This makes it easy for stakeholders to track and manage the renewal or termination process.
What are the benefits of having a contract management software?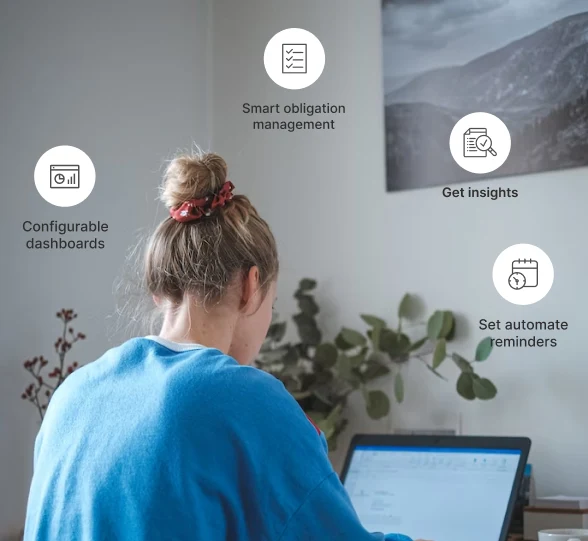 An AI CLM tool can help organizations manage contracts efficiently and effectively. By standardizing contract processes, automating repetitive tasks, improving collaboration, improving visibility, reducing costs, and improving compliance, a contract management software can provide significant benefits to organizations of all sizes. As the complexity of contracts increases, the use of a contract lifecycle management tool becomes more critical to ensure that organizations can effectively manage their contracts and mitigate risks. Here are some of the benefits of implementation a CLM tool.
Contract Standardization
Manual Task Automation
Enhanced Collaboration
Improved Organization-wide Visibility
Reduced Administrative Costs
Improved Operational Efficiency
Improved Compliance
Timely Reminders
AI powered contract management software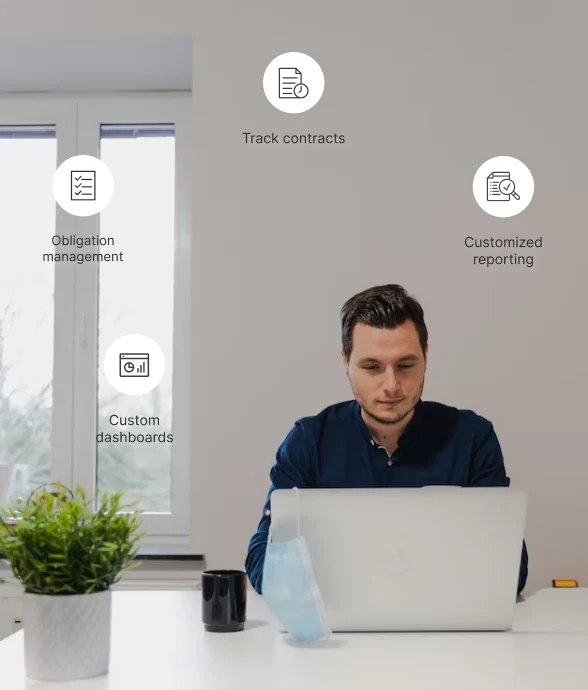 AI-powered Contract Management applications like Volody's CLM have additional intelligent features like risk analysis, clauses extraction, clauses suggestions, digitizing legacy contracts & more to improve compliance and automate manual work. Certain AI CLMs also have the capability to update approval workflows based on the cost of the agreement or due to the presence of certain terms to ensure complete compliance.
Volody's contract management software also has an in-built OCR engine that allows you to digitize legacy contracts with bulk upload functionality and extracts all key meta data from the agreement as well as set up automated reminders for renewals, obligations, etc. Features like "risk analysis" alert you for any risky terms that might be present in your third-party agreements and "clause suggestion" propose terms based on your best practices or previously agreed upon agreements.
Enterprise-grade CLM applications can also integrate with ERPs, Payroll systems, CRMs and all leading e-signature platforms, making the CLM the singular platform for all contracting related activities.
How to evaluate a contract management tool
Choosing the right contract lifecycle management (CLM) software is crucial for any organization looking to improve its contract management processes. With so many CLM software options available on the market, it can be challenging to select the best one for your specific needs. Here are some of the essentials factors to considering when implementing a CLM tool
Identify your organization's specific needs
Before choosing a CLM software, it's essential to identify your organization's specific needs. Consider the type and volume of contracts you manage, the size of your organization, the number of stakeholders involved in the contract process, and the specific features you require.
Evaluate the software's usability
A CLM software's usability is crucial to its success. Ensure the software is easy to use and navigate, with a user-friendly interface. Check if the software offers a mobile app, as this can be especially helpful for remote workers or those who need to manage contracts while on the go.
Check for customization options
Every organization's contract management needs are unique, so ensure that the CLM software you choose can be customized to meet your specific needs. Check if the software offers configurable workflows, custom reporting, and the ability to create custom fields.
Consider the software's integration capabilities
A CLM software should integrate seamlessly with your organization's existing systems, such as your CRM or ERP. Check if the software offers integrations with your existing systems or other commonly used software. This can help streamline your contract management processes and reduce the need for manual data entry.
Look for security features
Contracts contain sensitive information, so ensuring that the CLM software you choose has robust security features is crucial. Look for software that offers data encryption, user access controls, and regular security updates.
Check for customer support and training
Ensure the CLM software you choose offers comprehensive customer support and training resources, such as online tutorials, user manuals, and responsive customer service. This can help ensure that your team can use the software effectively and address any issues that may arise.
Consider pricing and scalability
Consider the pricing and scalability of the CLM software you are considering. Look for software that offers flexible pricing plans based on the number of users or contracts you manage. Also, ensure that the software can grow with your organization and accommodate any changes in your contract management needs.
Instantly book a personalized demo

Get in touch with one of our contracting specialists for a live demo

Understand your current contracting bottlenecks and get tailor-made solutions

Explore how Volody's AI CLM can supercharge your contracting
Looking to transform your contracting?
Fill in your details below and receive a personalized interactive demo from one of our contracting experts
Check out our latest blog