Smart Contract Lifecycle Management
Volody's AI Contract Management Software helps businesses digitize & automate their contracting operations
Accelerate Contracting Cycles
Manage the entire lifecycle of your agreements using cloud-based smart CLM Software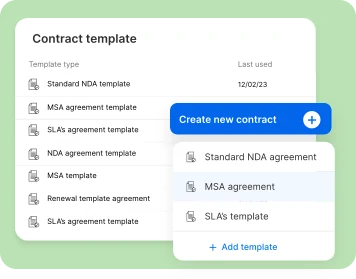 Authoring & Collaboration
Seamlessly create new agreements using your pre-approved templates & collaborate using your favorite editors like MS Word or Google Docs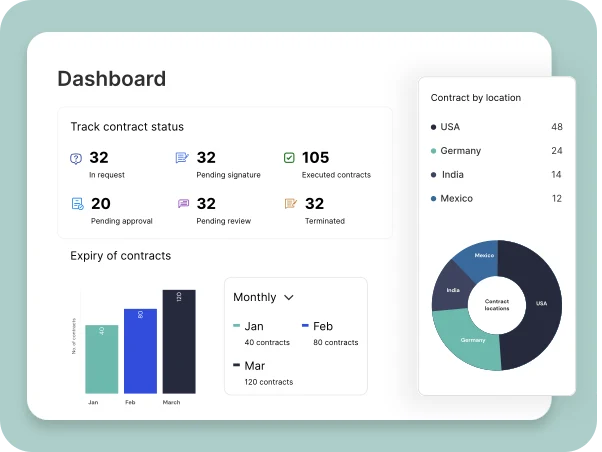 Dashboard & Reporting
Create your own dashboard & track contractual obligations on an AI-powered data-driven integrated platform providing real-time contract intelligence across the entire contract lifecycle.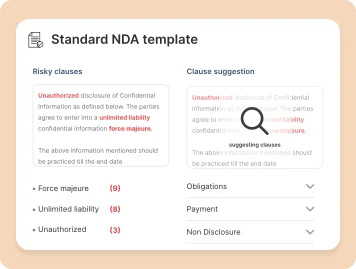 Smart AI & ML Features
Leverage best-in-class AI & ML features to reduce contractual risks, improve compliance, analyze clauses, suggest favorable terms & extract key obligation or deliverables
One platform for all contracting activities
Volody's Smart CLM makes contacting effortless and streamlines each step of the lifecycle with AI & ML features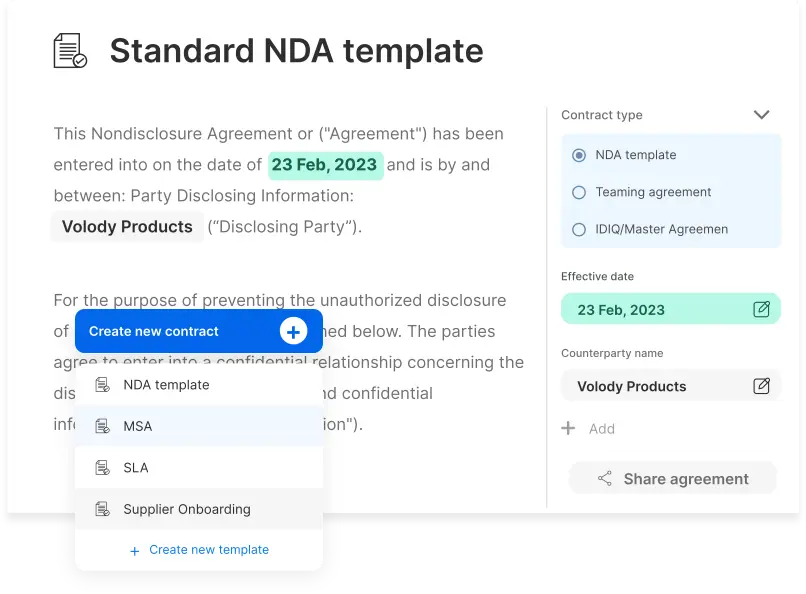 Automate Drafting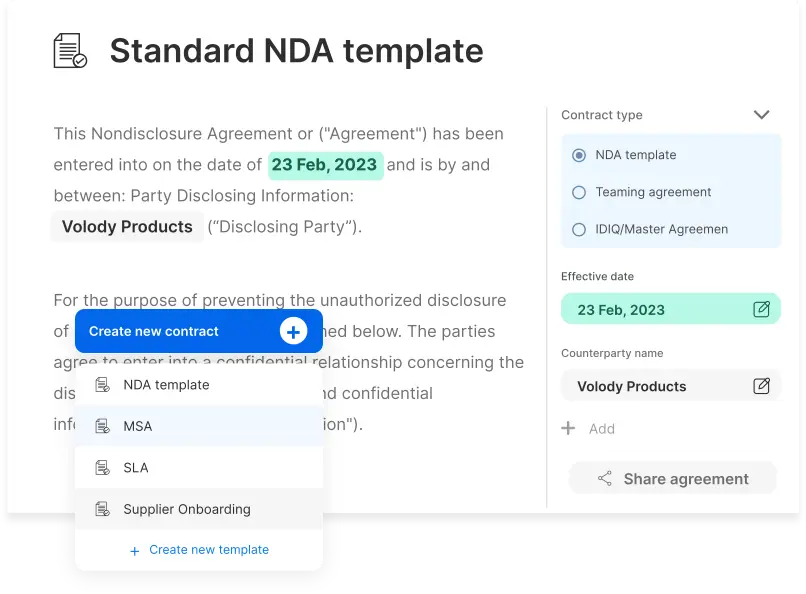 Automate contract creation with legal approved templates to accelerate contracting cycles with Smart CLM
Unify all contract requests through a single tool and keep track of all contract versions
Empower business teams to draft contracts on the go using your existing CRM like Hubspot or Salesforce
Effortlessly create & store new templates with our smart template designer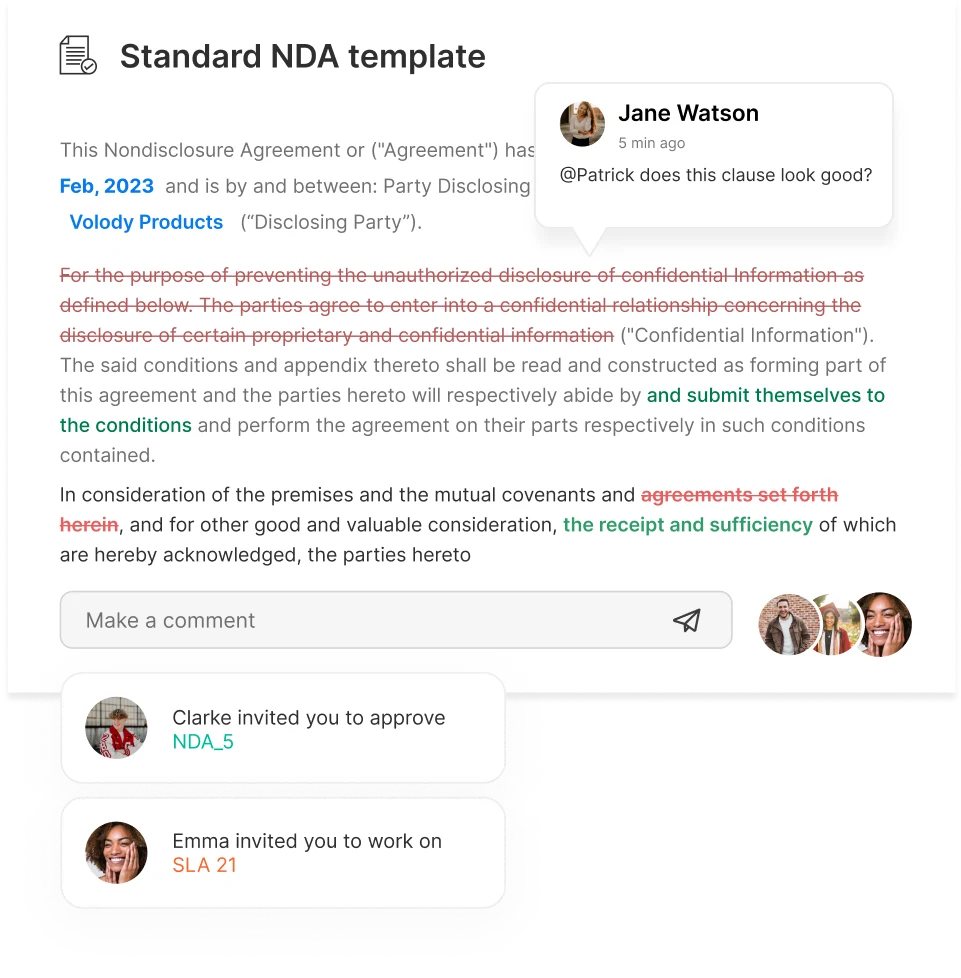 Collaborate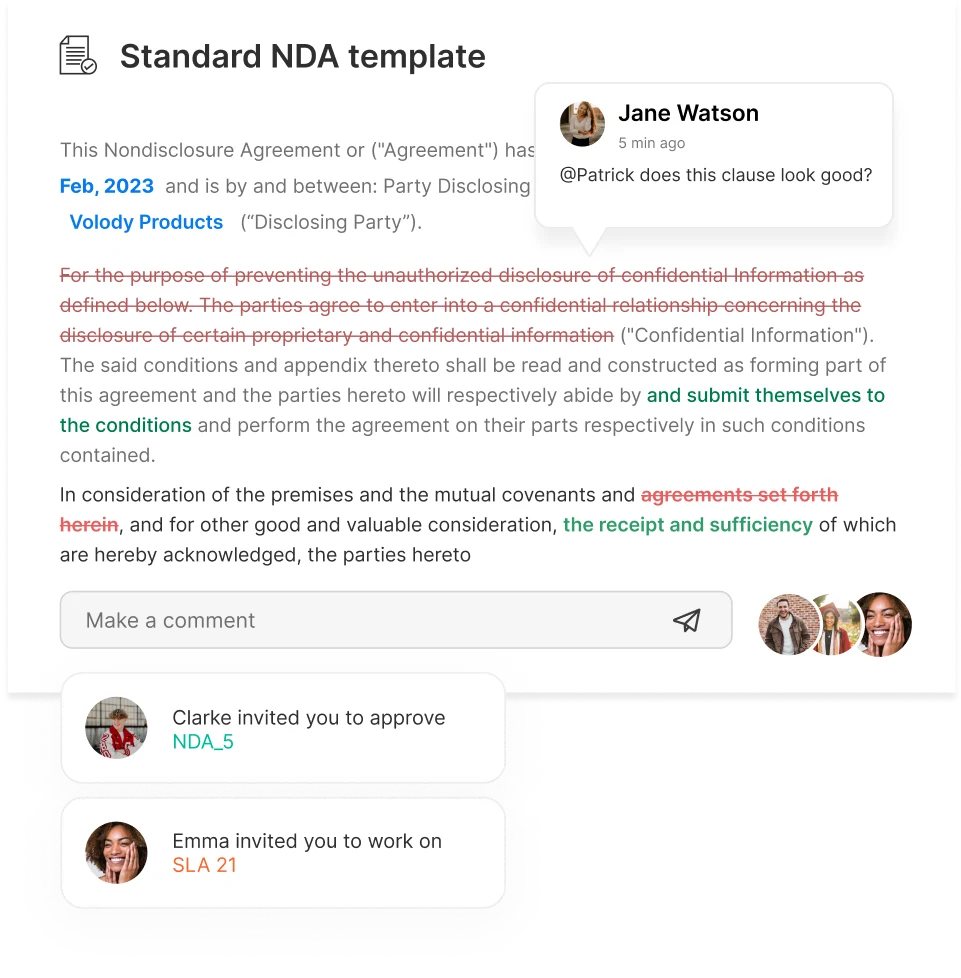 Streamline redlining and effortlessly collaborate with all your stakeholders using your editor of choice (Google docs/MS word)
Facilitate easy collaboration and track version history with our smart CLM software
Smart AI & ML features that alert you for risky clauses, provide suggestions, highlight deviations & assign specific clauses for approval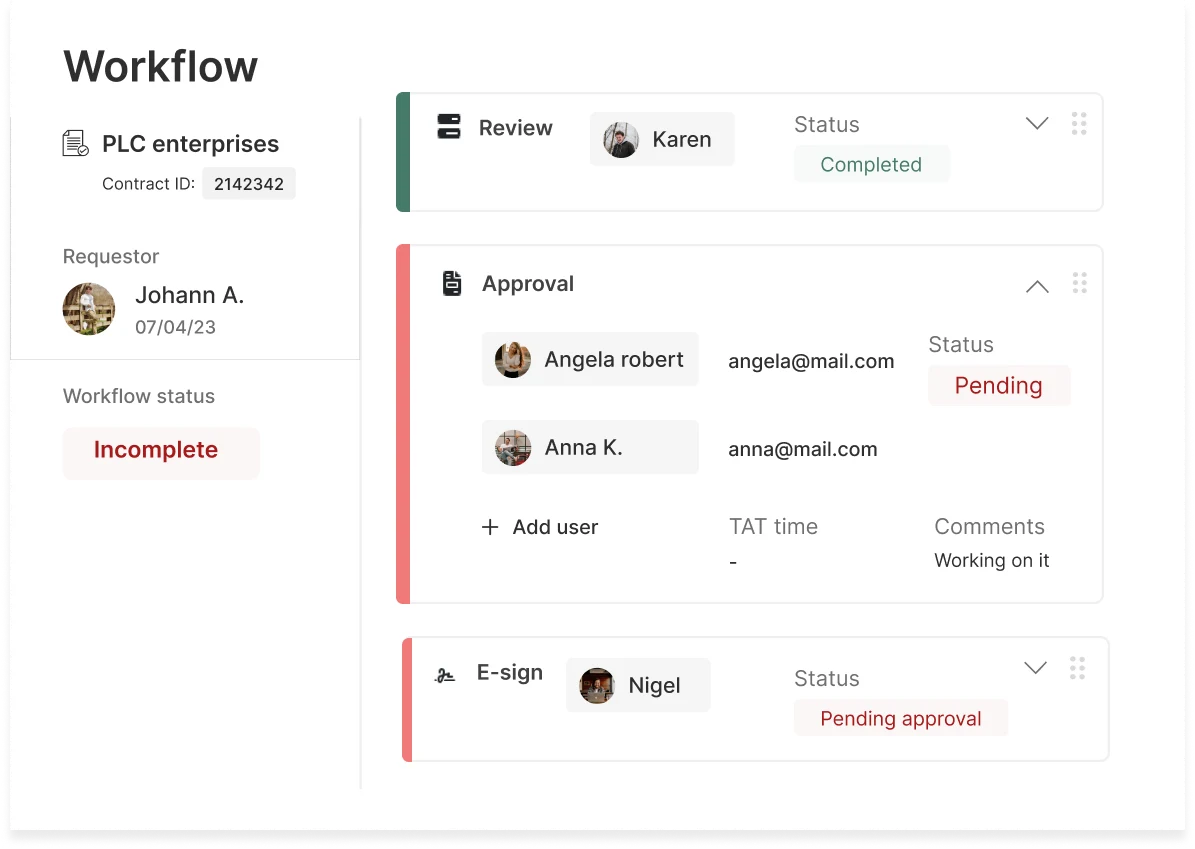 Streamline Approvals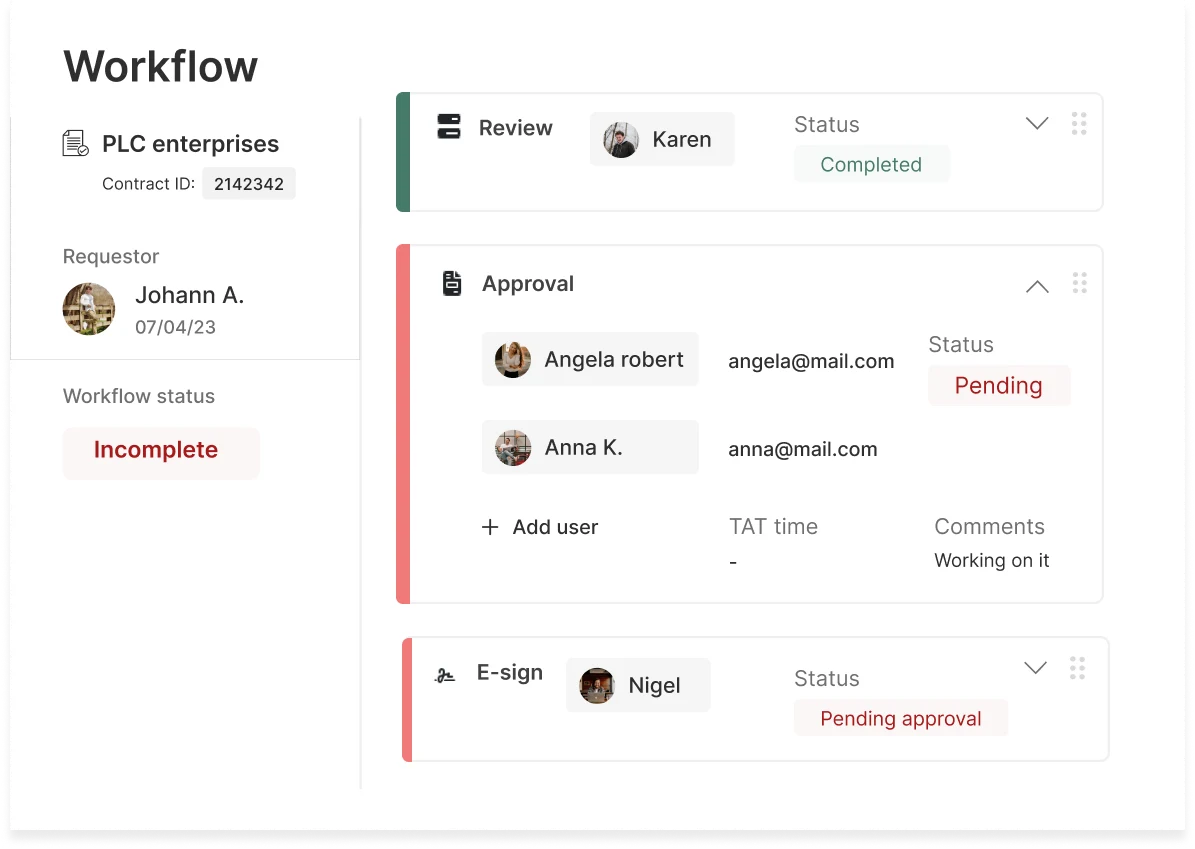 Configure approval workflows and get a document ready for signature with our no-code workflows builder.
Automate approval requests though our CLM tool and do away with constant emails and phone calls
Map out template-specific approval workflows and intelligently add new stakeholders during negotiations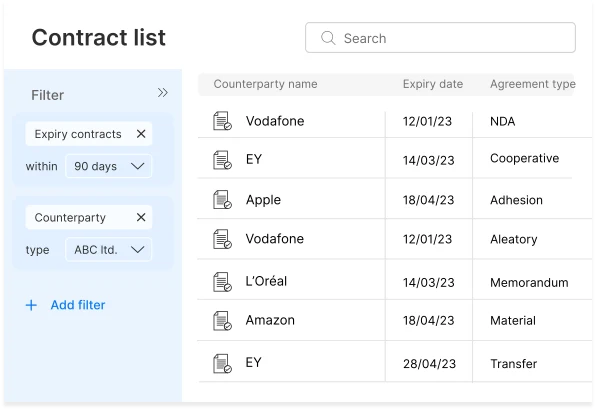 Central Repository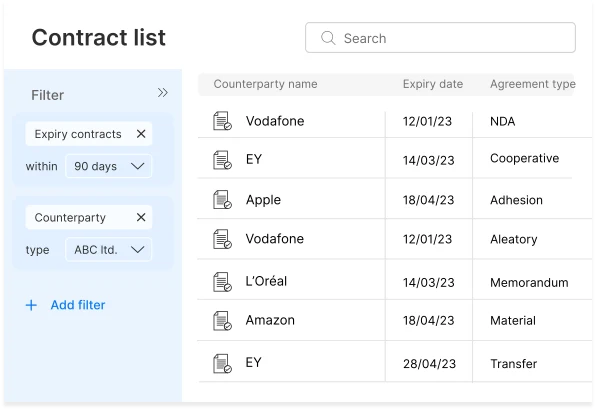 Create a single source of truth for all your agreements and smartly keep track of all renewals, milestones & obligations
Have all documents on your fingertips and automate reminders with our smart CLM software
Search for any legacy documents, create custom contract lists using advanced filters and store agreements on secure AWS cloud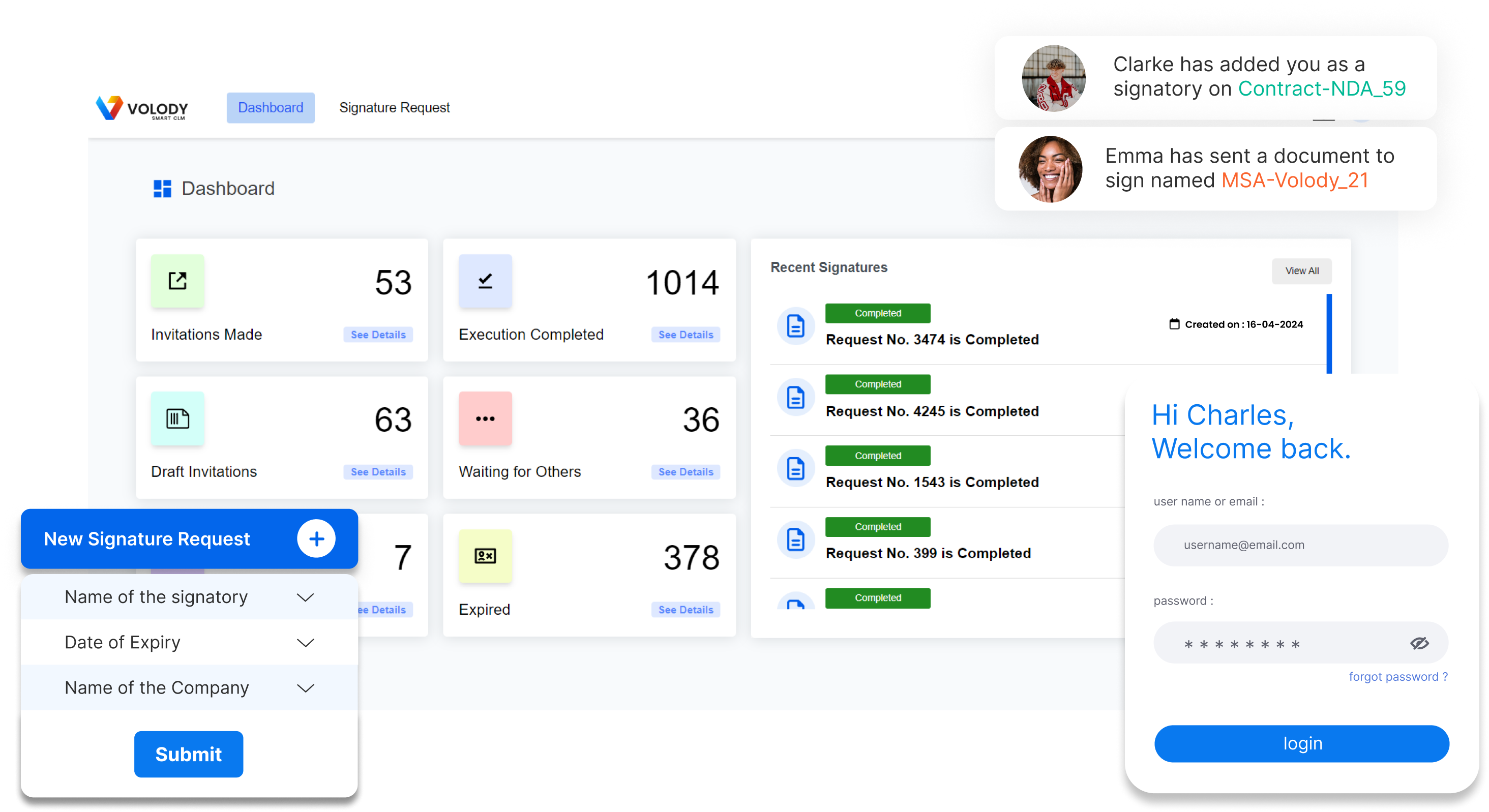 E-Signature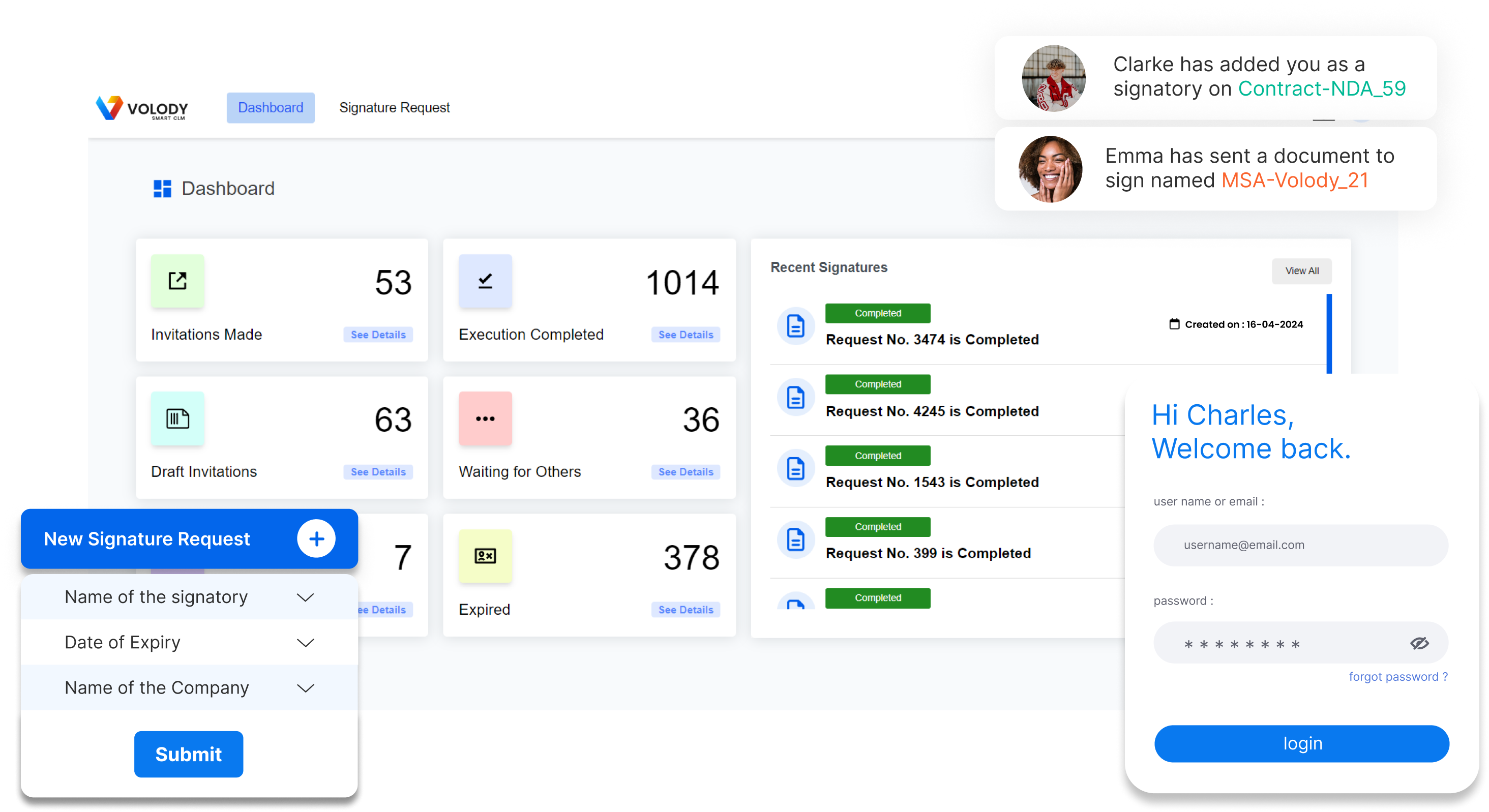 Digitally sign your agreements with your native e-signature provider like Docusign or Adobe
Close deals quicker with legally-binding advanced electronic signature trusted by global organizations
Store all your signed documents in a single secure platform
Take Control of Your Contracts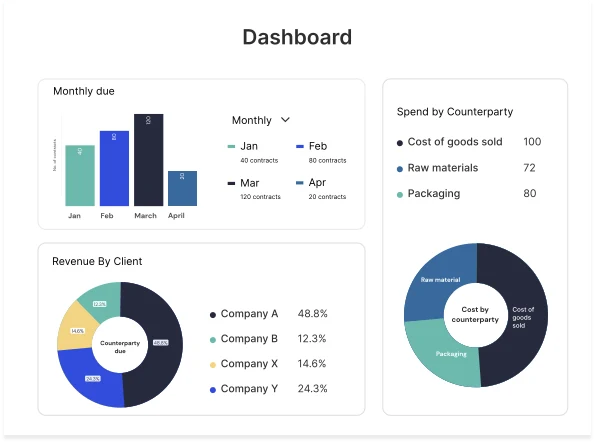 Smart Dashboard & Reporting
Get real-time visibility into all your agreements, enhance analysis and build custom dashboards to uncover business insights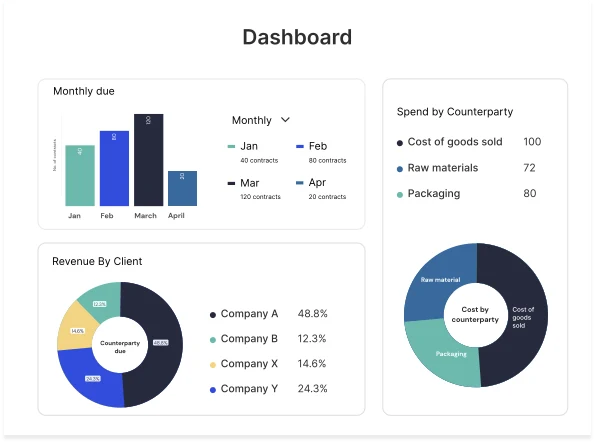 Easily generate custom MIS reports with visual-rich charts and stay on top of all contracts, milestones & risk
Reduce bottlenecks with improved status visibility and track any pending actions through clickable drill-down data points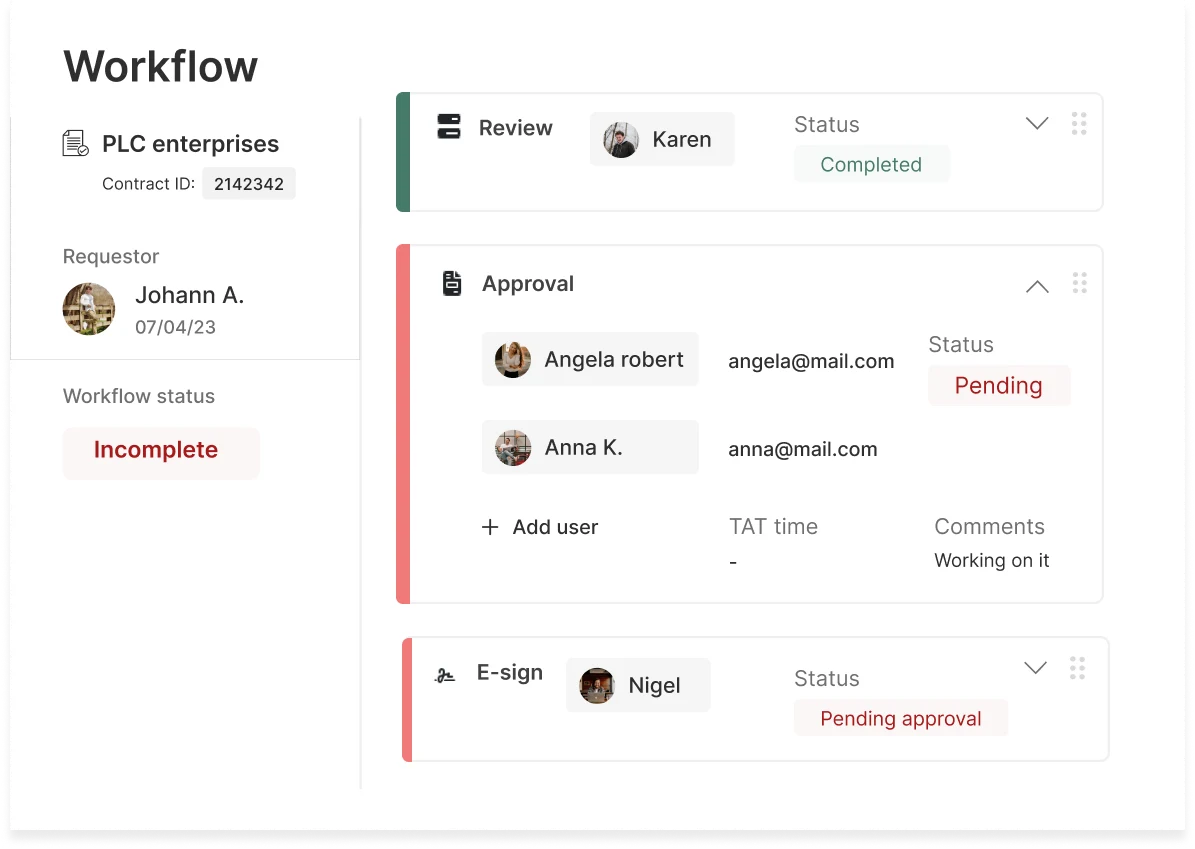 Automate Approval Workflows
Use Volody's drag & drop workflow editor to streamline approvals and make sure all stakeholders are on the same page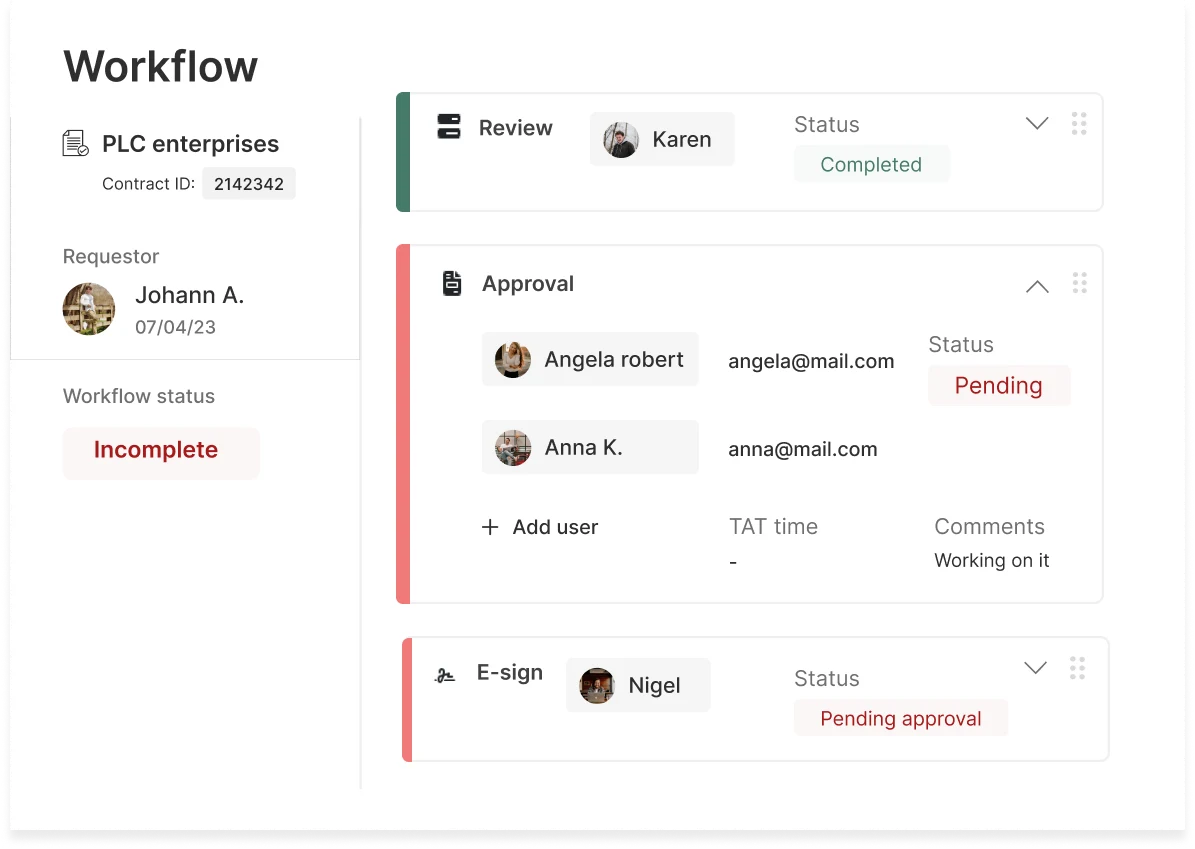 Reduce contracting cycles by 40% triggering automated contract updates and maintain audit trails for all your agreements
Set up custom workflows for all templates while ensuring complete compliance for all your agreements.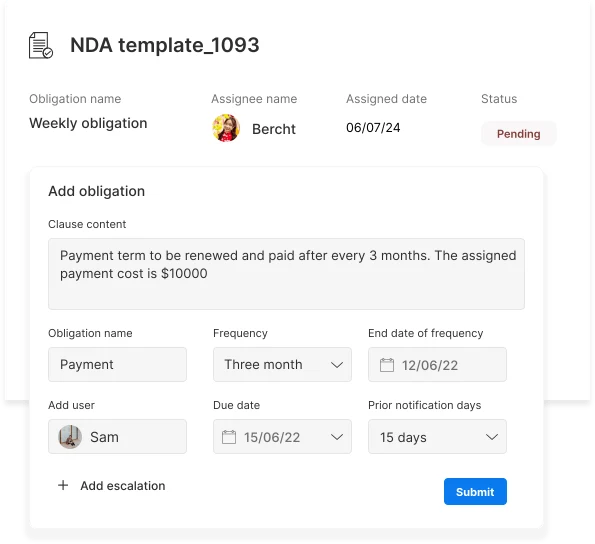 Obligation Tracking & Reminders
Optimize obligation management and transform how you manage deliverables with Volody's Obligation Management Module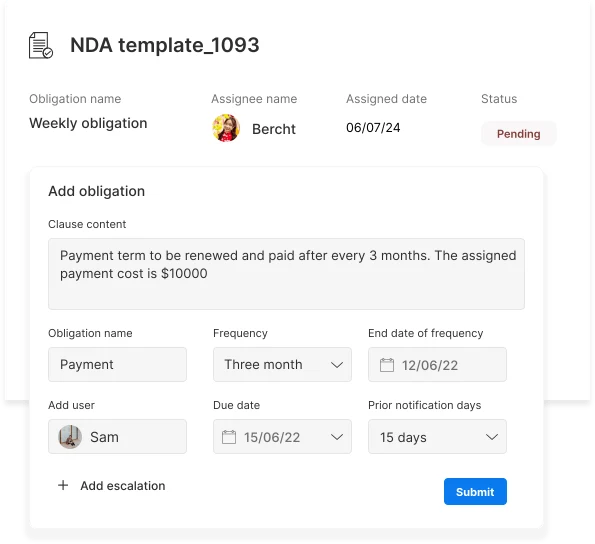 Improve business performance & reduce risk exposure with timely reminders for any pending obligations or renewals
Track performance against contractual deliverables in real time with detailed reporting and gain intelligence into all your agreements
Accelerate your contracting
Global enterprises choose Volody's Smart CLM tool to stay on top of all their agreements and improve organizational performance
70%
Productivity improvement
40%
Shorter Contracting Cycle
30%
Administrative Cost Saving
99%
Customer Adoption & Retention
Integrated with tools you use
Easily access all the features with a good understanding of the interface and with a customizable view of your choice
Volody's Smart CLM is hosted on secure AWS cloud trusted by global organization like Netflix, LinkedIn, Facebook & more
Volody's contract automation software seamlessly integrates to MS Office with AI & ML Word plug-ins
Customer Case Study
Explore how global organizations have streamlined & automated their legal contracting operations with Volody's AI Contract Management Software
Read Case Study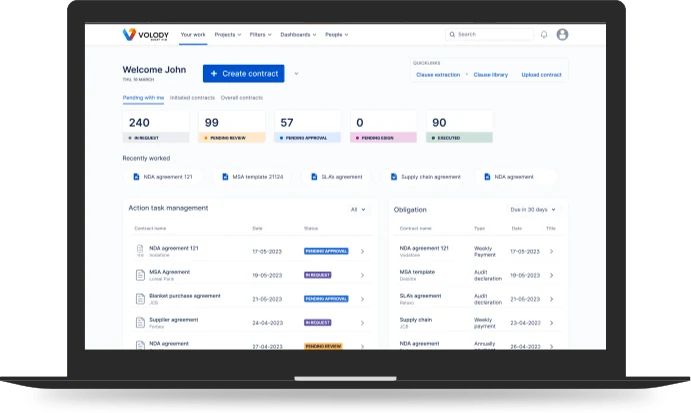 Reimagine Contracting
Stay on top all your contracts and leverage Volody's Best in class AI to automate risk analysis, obligation reminders and compliance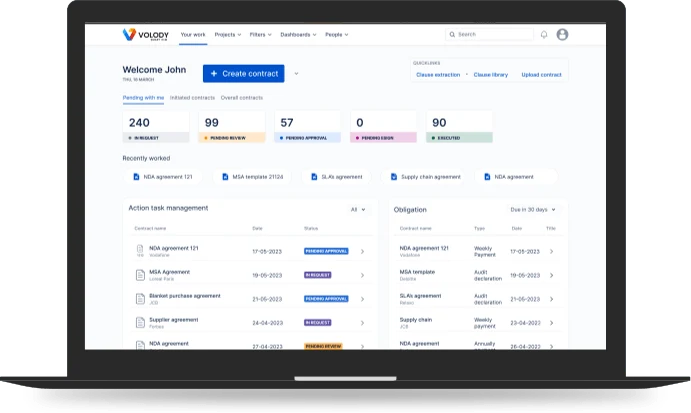 Fast track your contracting
Enhance stakeholder Collaboration
Eliminate bottlenecks with constant email updates
Visualize your contracts with smart dashboard
Easy tutorial to help you get started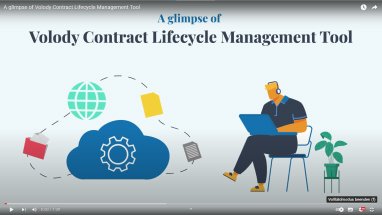 How to create customized dashboard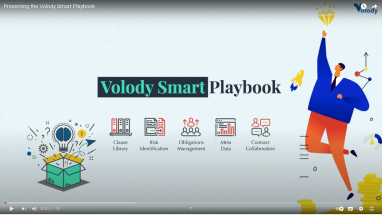 Creating workflow in Volody CLM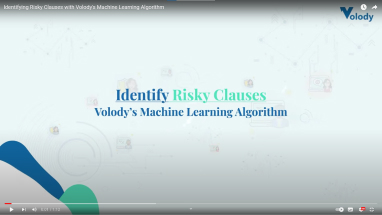 Managing obligation and setting reminders
Instantly book a personalized demo

Get in touch with one of our contracting specialists for a live demo

Understand your current contracting bottlenecks and get tailor-made solutions

Explore how Volody's AI CLM can supercharge your contracting
Looking to transform your contracting?
Fill in your details below and receive a personalized interactive demo from one of our contracting experts
Schedule a Personalized Demo
Book an interactive today and see how our Smart Contract Management tool can help you transform your legal contracting operations