Contract Approval Workflow Designer
Configure drag & drop contract approval workflows with Volody AI contract management software's user-friendly software. Accelerate contract approvals by triggering automated reminders & reduce your contract turnaround time.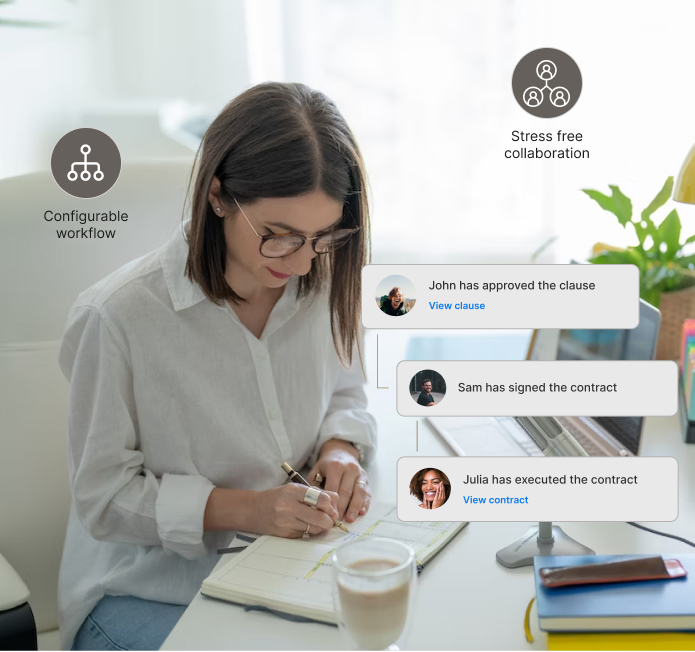 Accelerate Approvals
Automate your current approval workflow and ensure all team members are constantly updated with Volody's contract approval workflow designer. Eliminate mundane tasks like sending email reminders for contract approvals and set up easy drag & drop workflow to accelerate execution.
Be it third-party contracts or your own standard templates, Volody AI contract management software's easy to use workflow designer can help you streamline the entire approval process.

Draft

Neogitate

Approve

E-sign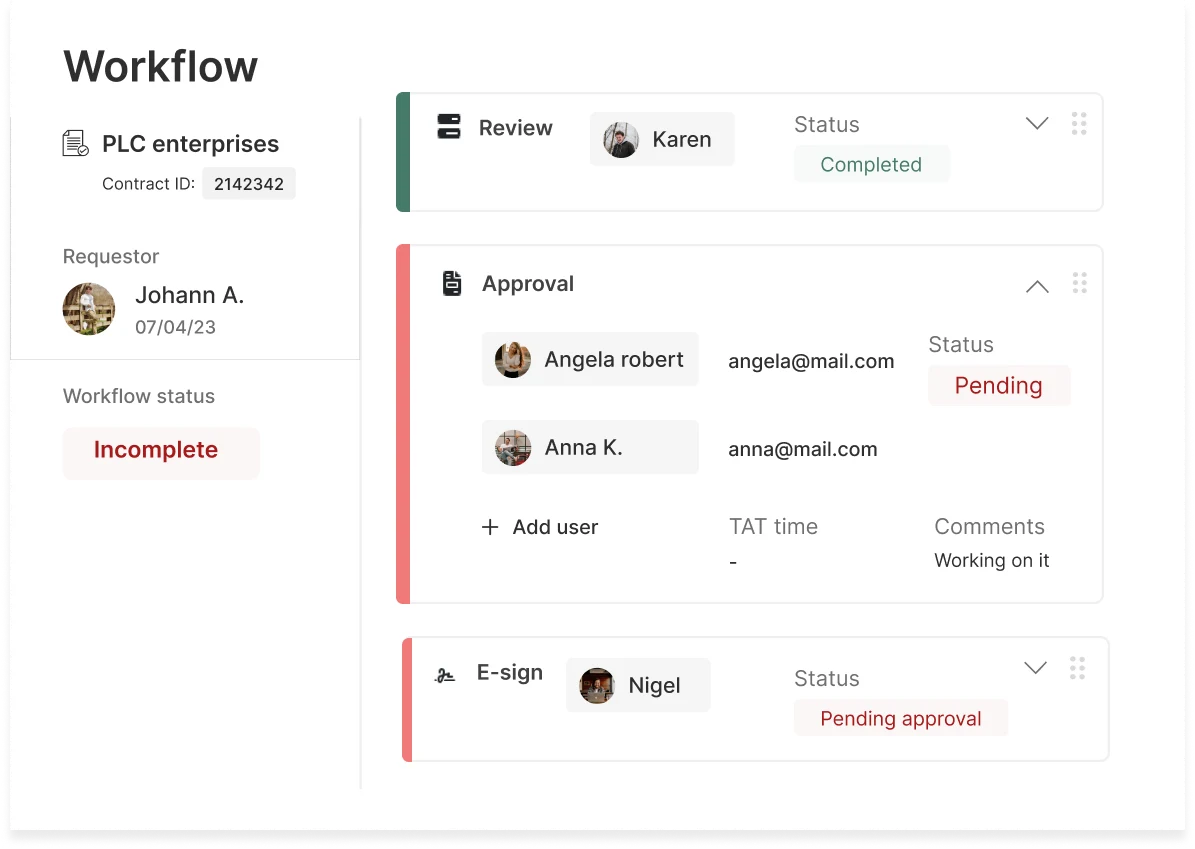 Customizable Workflow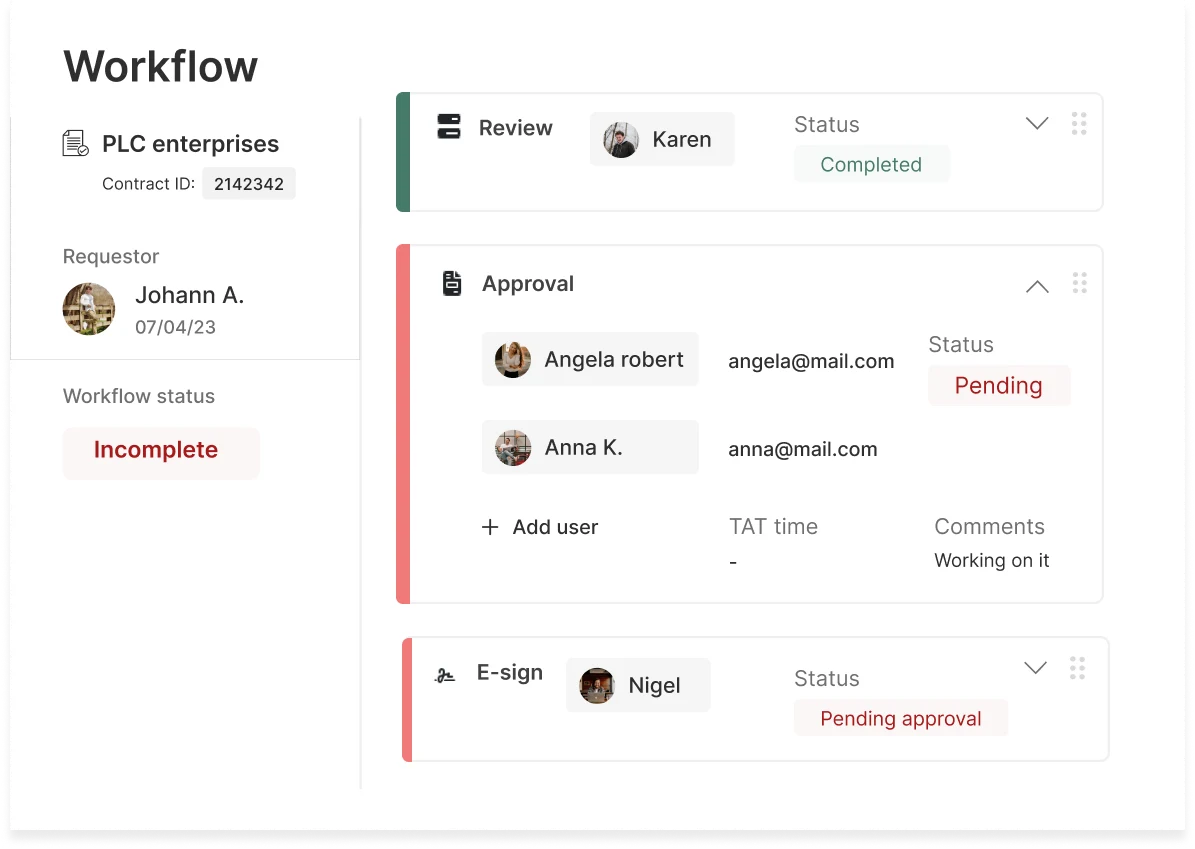 Easily modify your approval workflows while negotiating using drag & drop functionality.
Set up conditional approvals based on certain clauses or total agreement cost.
Add multiple stakeholders at each step of the approval workflow with sequence customization.
Trigger automated reminders and keep all stakeholders and maintain audit trail.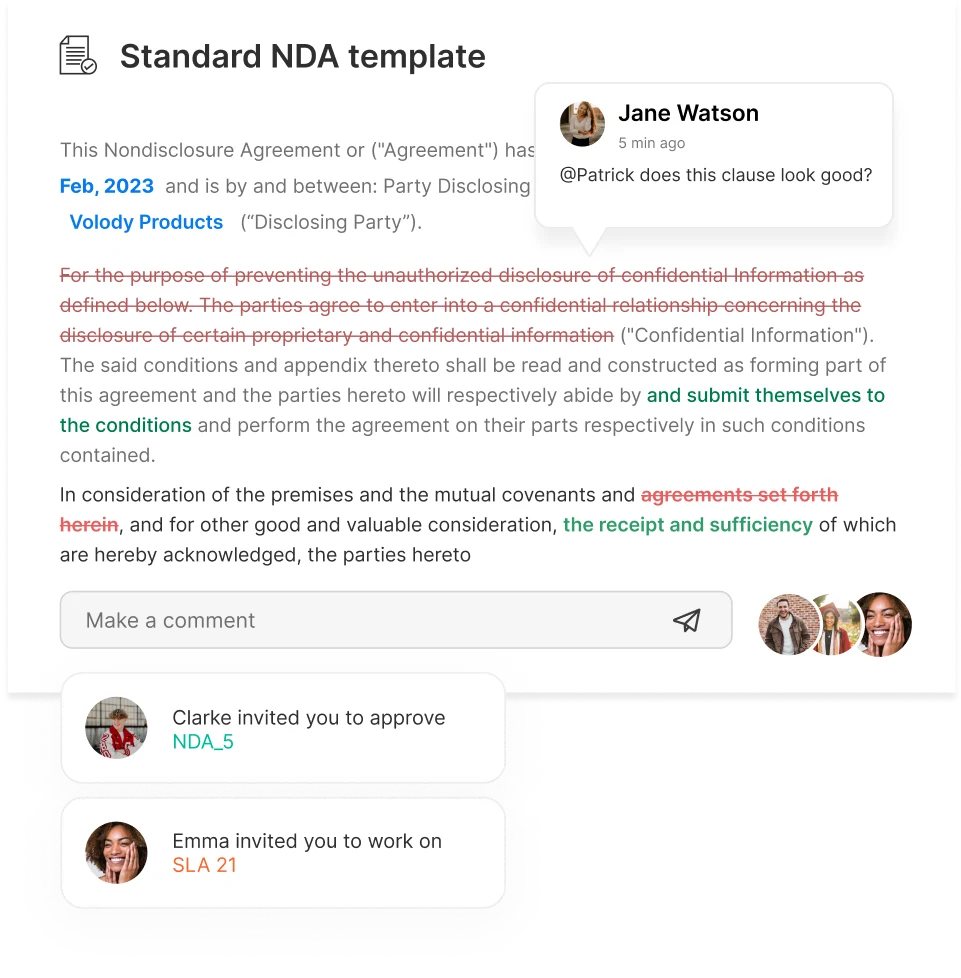 Stress-free Collaboration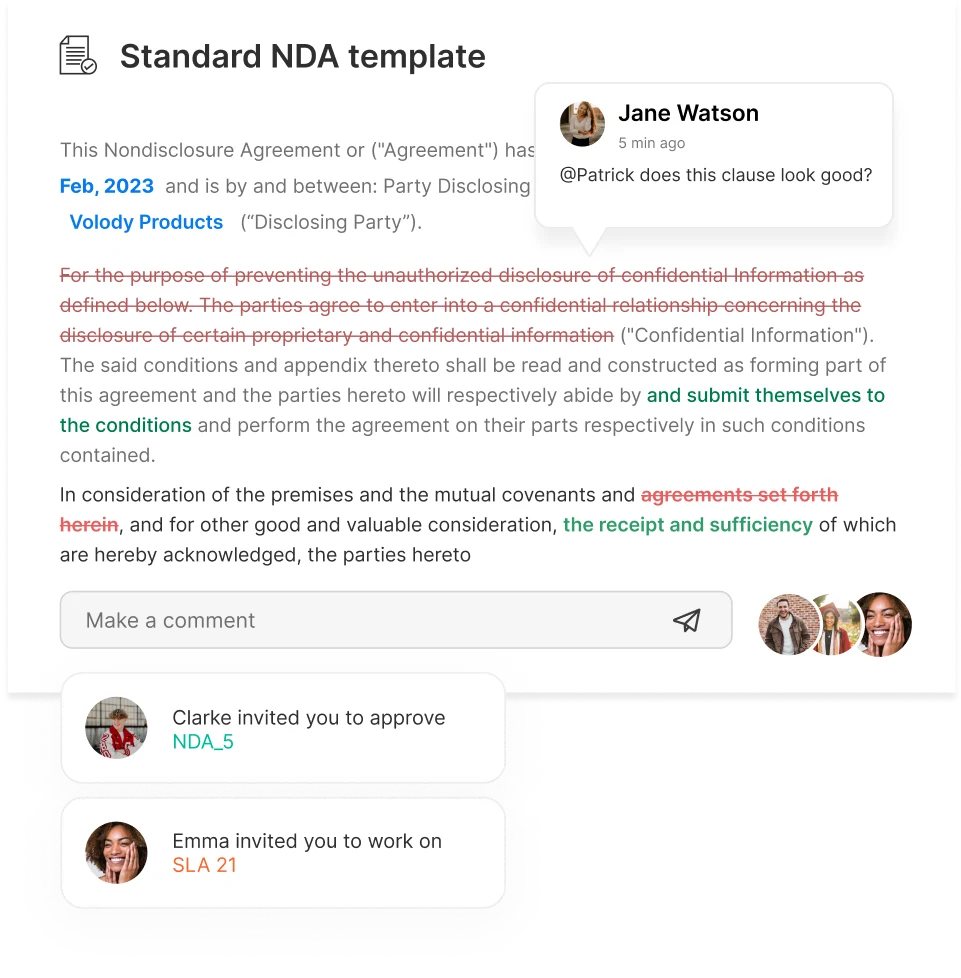 Facilitate seamless collaboration between internal teams and external stakeholders.
Accelerate contract review & approvals to stay ahead of your competitors.
Fast-track redlining and negotiations between relevant stakeholders.
Improve operational efficiency and avoid delays with automated notifications and reminders.
Book a personalized AI
CLM software demo

Schedule a live, interactive demo with a Volody's contracting specialist.

Understand your current contracting bottlenecks & get tailor-made solutions.

Explore how Volody's AI CLM can supercharge your contracting process.
Looking to transform your contracting?
Fill in your details below and receive a personalized interactive demo from one of our contracting experts
Contract Drafting
Easily set up contract templates or upload client contract draft.
Efficiently create contracts using self-service forms.
Draft & edit contracts on Microsoft Word/ Google Docs.
Utilize contract playbook to reduce errors and enhance efficiency.

Check out our latest contract management blogs
Frequently asked questions
Absolutely, the CLM software provides the flexibility to tailor approval stages to match your organization's specific requirements. You can configure multiple approval steps, designate responsible parties, and adjust the workflow as needed.
The CLM software features automated notifications that promptly inform stakeholders about pending contracts. Through emails, in-app notifications, or both, relevant parties are alerted, ensuring timely action and preventing bottlenecks.
Yes, real-time tracking is a highlight of the contract approval workflow designer. Volody's contract management software offers a clear overview of each contract's progress, highlighting which stage it's in, who's responsible, and any outstanding actions, facilitating transparency and accountability.
Volody's contract approval workflow designer accommodates diverse contract types with varying approval requirements. You can create distinct workflows for different contract categories, ensuring that each follows an appropriate and optimized approval path.
Volody AI CLM software's contract approval workflow designer operates by allowing users to visually design and customize contract approval processes. Users can define approval stages, assign roles, and automate actions, streamlining the contract approval process efficiently.