Stronger Contracts
Draft water-tight contracts using Volody's AI contract management software to protect your organization from any unnecessary risk while maintaining version history & audit trail for all contracts.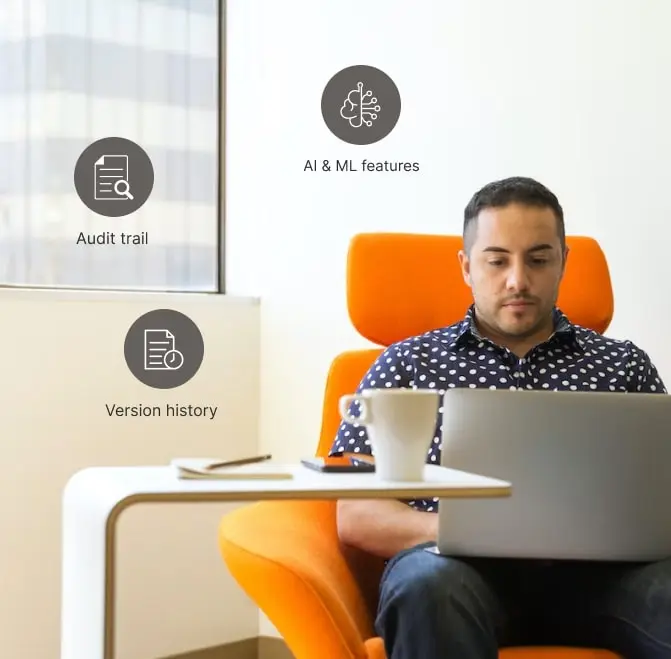 Water - tight Agreements
Transform contract negotiations with Volody's AI contract management software by leveraging best in class AI & ML features to ensure complete compliance & mitigate risk.
Be it third-party contracts or your standard templates, Volody's AI contract management software helps you redline & collaborate on all agreements with ease.

Version history

Audit trail

Collaborate

AI & ML features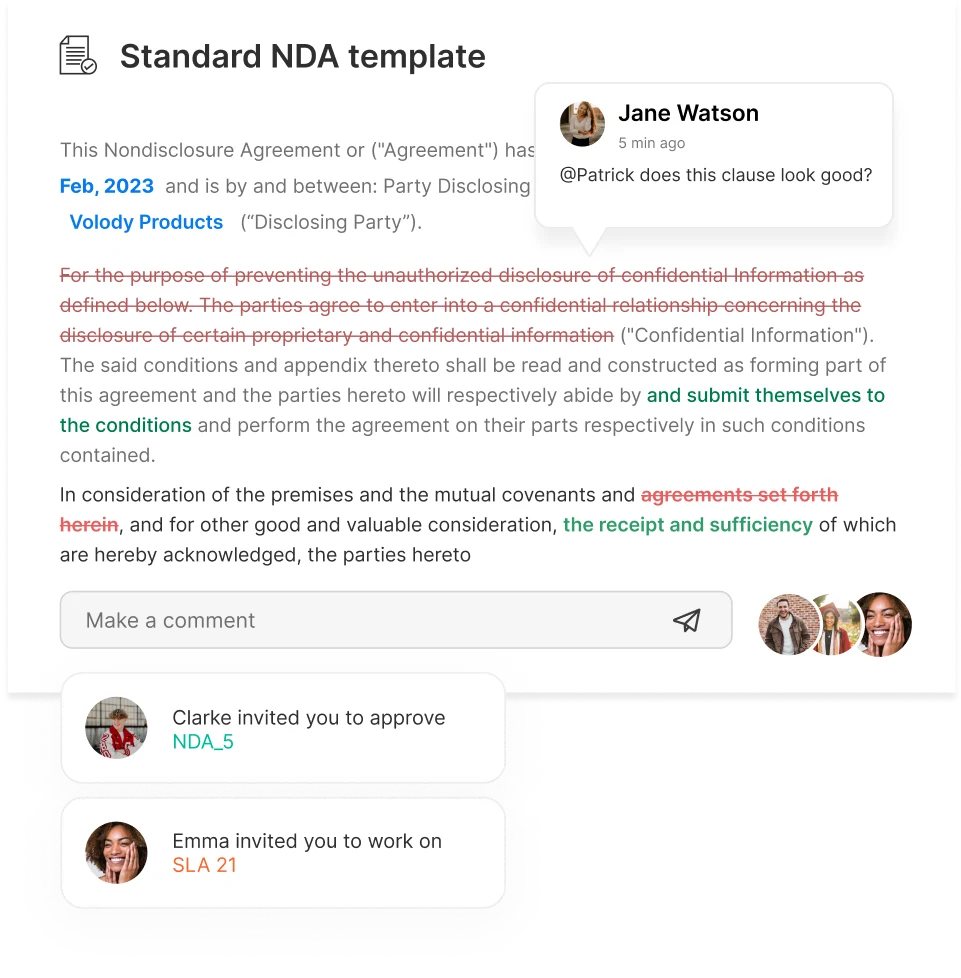 Collaboration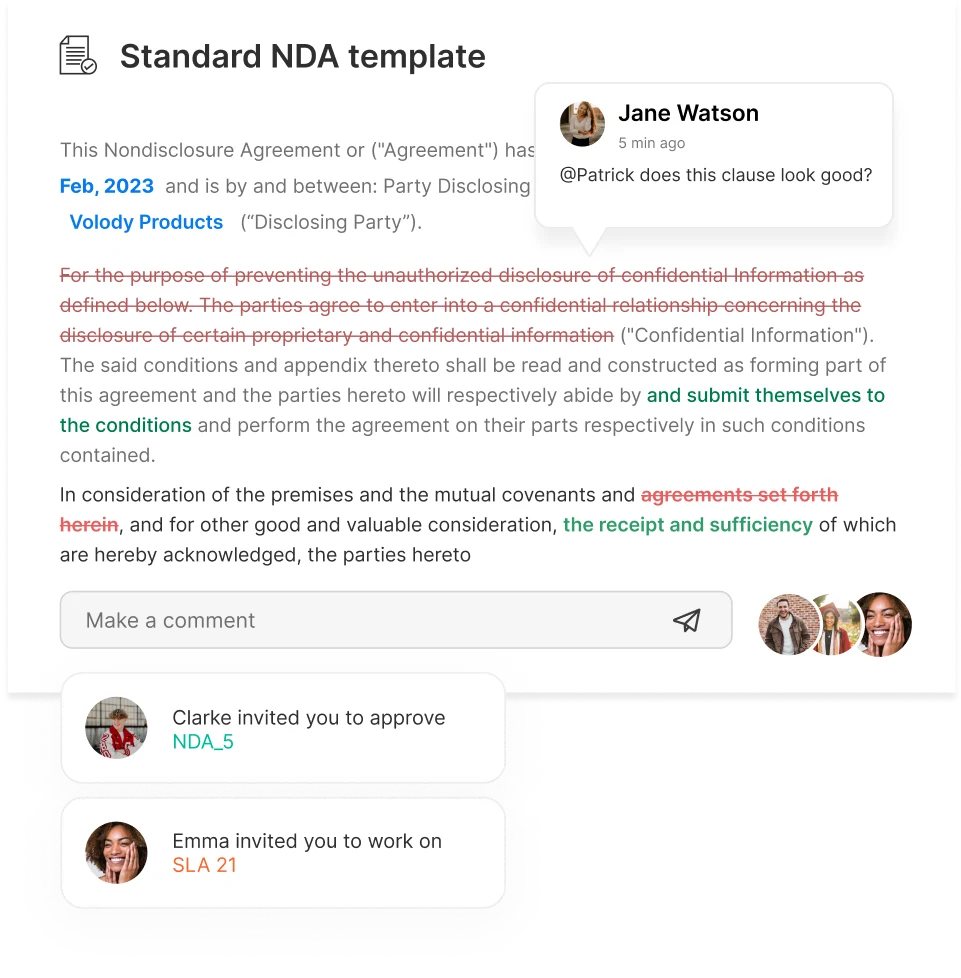 Enable seamless collaboration using your favorite editors like MS Word, Google Docs.
Make real-time edits and comments to keep all your team member updated.
Reduce contract management cycle with custom approval workflows and accelerate the process.
Keep track of contract version history and maintain a secure audit trail.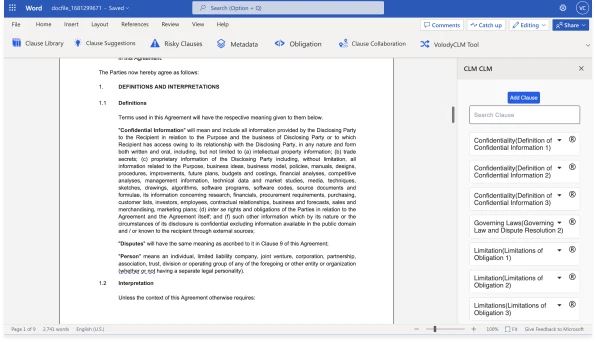 AI Powered MS Word Plug-ins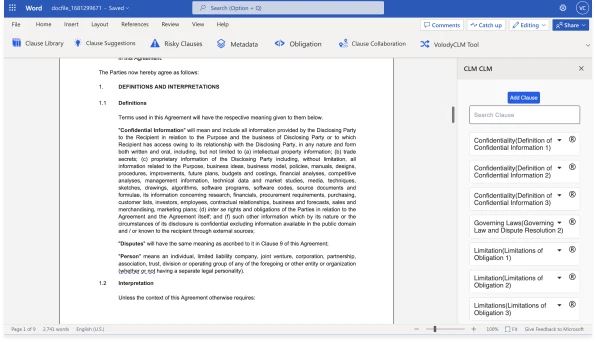 Leverage Volody's proprietary AI engine to reduce risk, improve compliance & standardize contracts.
Simplify the contract review process by editing your contracts on the platform you are comfortable with.
Receive clause suggestion on favorable terms based on all your previously executed agreements.
Use your legal-approved clause library to standardize all your contracts.
Book a personalized AI
CLM software demo

Schedule a live, interactive demo with a Volody's contracting specialist.

Understand your current contracting bottlenecks & get tailor-made solutions.

Explore how Volody's AI CLM can supercharge your contracting process.
Looking to transform your contracting?
Fill in your details below and receive a personalized interactive demo from one of our contracting experts
Version history
Collaborate & review on one-single platform reducing friction.
Auto track version history of document sent to external stakeholder via email.
Maintain version history and eliminating tracking contracts through endless emails.
Contracts when updated, the audit trail is updated tracking all the changes made.

Check out our latest contract management blogs
Frequently asked questions
Ensuring your contracts comply with relevant legal requirements involves thorough research and staying updated on applicable laws. Volody's contract management software can help create stronger contracts that are legally sound.
While contract templates can provide a starting point, it's crucial to customize them to fit the specific needs of each agreement. Tailoring templates to the unique circumstances of your contract ensures a stronger and more relevant final agreement. CLM software providers like Volody's contract management software understand this issue and its AI analyzes the past agreements and ensures that the contract templates fit the specific needs of each contract.
To enhance the enforceability of your contracts, ensure that the language used is precise and unambiguous. Clearly state the rights and obligations of each party involved and provide remedies for potential breaches, thereby creating a stronger foundation for legal action if needed.
Technology, such as Volody's AI CLM software, plays a pivotal role in modern contract collaboration by offering features like version control, real-time commenting, and secure cloud storage. These tools facilitate seamless interaction and make the collaboration process efficient.
Volody's AI CLM software streamlines collaboration by providing a contract repository for contract sharing, real-time editing, & automated alerts. This fosters efficient communication and reduces the chances of misunderstandings.